Ms. Mistriner
Ms. Mistriner has been with St. Stephen's School since 2008 when her children were enrolled.  She has been volunteering and subbing since then.  In 2016 she helped develop the Life Skills/Culinary Arts program that she currently teaches in grades 1-8.  In this class students learn the basic practical skills to build confidence in the kitchen and home, enabling them with skills necessary to take care of themselves and their families.  She also head the Culinary Arts Club.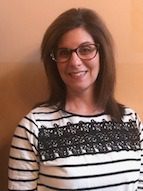 Welcome back! Culinary Classes will soon be held in the green house. We have been busy preparing our cook book binders for all of the recipes we will be learning this year!
Read More
This month students in 8th grade learned how to make apple pie from scratch! They peeled cored and cut fresh apples after rolling out a flaky crust. We topped them with crumb topping. Delicious! Middle school students learned to iron their school uniforms so...
Read More